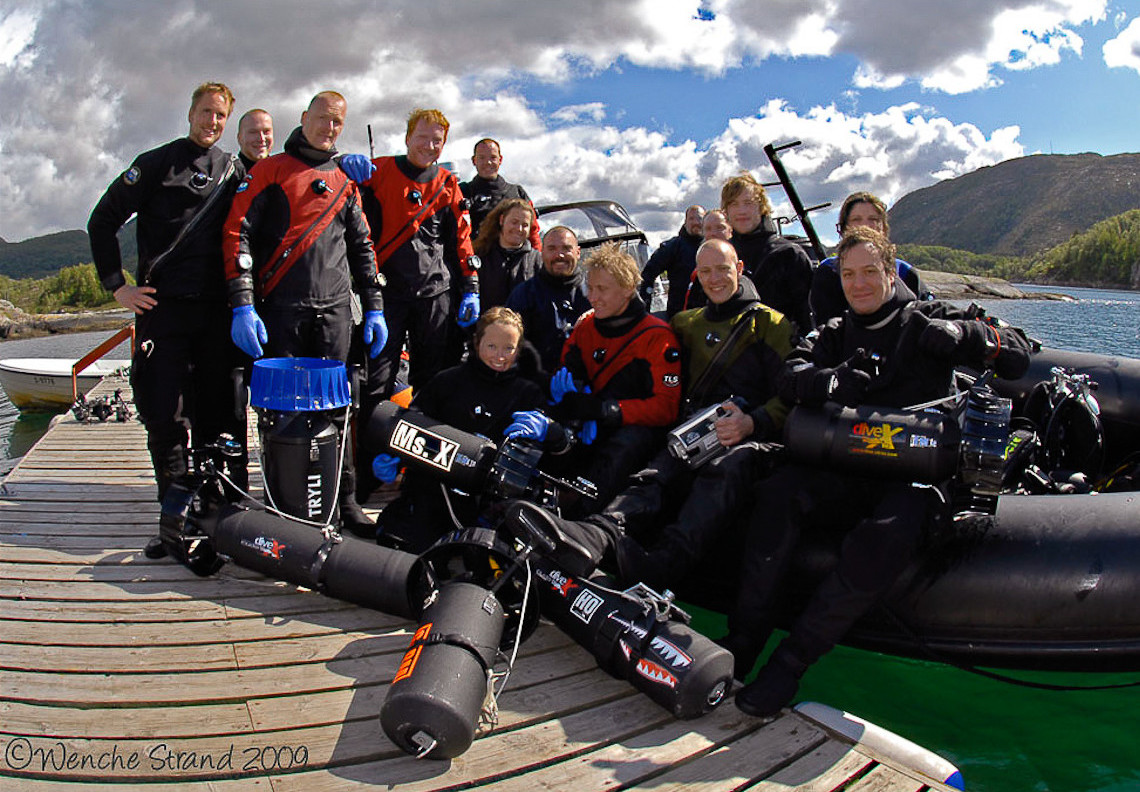 Tech Diving
So what about some Tech Diving?
Gulen Dive Resort has been a host for tech diving and is therefore used to handle most types of recreational and tech diving. Our logistics is also good and optimised to cope with equipment, gas handling, and have beside that hosted numerous GUE, IANTD, TDI and PADI tech courses on OC and CCR since the start.

Let us do our best to fulfil your needs.
Together will we manage a plan to help you to get the type of tech diving you prefer, as long as you got certification needed?
If you have special demands or thing you need let us know, like bottles, deco bottles, Sofnolime, gas and technical drysuits etc. Most of this we have onsite, and if there is something we need to order or rent we will do that for you.
Want to plan your own group trip?
Do you have a date for a trip? and want to gather friends to get along? minimum is 6 divers and max 10 depending on the type of Tech diving you want to do etc.
Download the book of Gulen as PDF
The book will give you tons of information about our resort and beside tech diving, and what you can find and more. Share it with your dive buddy's as well. our goal is to give you inspiration for a trip to Gulen. Gulen Book PDF
---
Diving

This package offers some of the best wreck dives in Europe. We have divers from all around the world, who visit us to the experience intact wrecks. Our wrecks are protected in the fjords easily accessible with good diving conditions. Currents can not be compared with elsewhere in Europe as we have almost no difference in tides. With more than 25 wrecks to choose from, we can promise you good dives in almost any weather conditions.

Photo & Video

Are you a photographer or like to shoot, you have unique opportunities. We have an average viz water at around 15-18m, where the winter months December January and February offers up to 30m. detailed explanations before dives will give you the correct information needed to choose the right lens etc.

Availability

You can dive this package throughout the year with slight variations in viz, but favorable periods has very good visibility up to 30 meters + in the winter months Water temperature is highest in August with up to 22 Celsius and lowest in March with 6 celsius.

The package includes:

Accommodation in shared twin rooms at Gulen Dive Resort
Presentations of wrecks You will dive
Tech Dive trips
Tanks, weights and air for all dives
Detailed wreck briefing
Social gathering with other wreck enthusiasts
After dive in 200BAR

Including also all that stands in the page

"Booking Conditions"

The package does NOT include:

Trimix and deco gas
Deco bottles and renting equipment

The package can be extended with:

Transfer: To and from airport
Food: Dinner served everyday
Nitrox,Trimix and deco gas cost

Length of stay

We offer safaris with fixed number of days as standard, but we are flexible if you want to make changes. Use our feedback form if you are unsure or have any other questions. When booking please be advised that you accept the terms and conditions set on our

Booking and payment

page.

Check availability for your wreck safari below or make your own

On the Tech Wreck Safari we have only up to max 10 persons onboard. If there is a mix where most divers are T1 we can be up to 10 divers. But with deeper depths T2 and longer runtime will the best group size be 8 divers max.

---

Searching Availability...

---

Do you want to read more about tec diving? see our wrecks on these pages

Read more about some spectacular wrecks, the list is an extract of more than 25 wrecks that we have in our area.

Tags: baylout bottles, CCR, diluent bottles, DSAT, GUE, IANTD, OC, PADI, rebreather friendly, sofnolime, stage bottles, TDI, tec wreck, Tech diving, tech resort