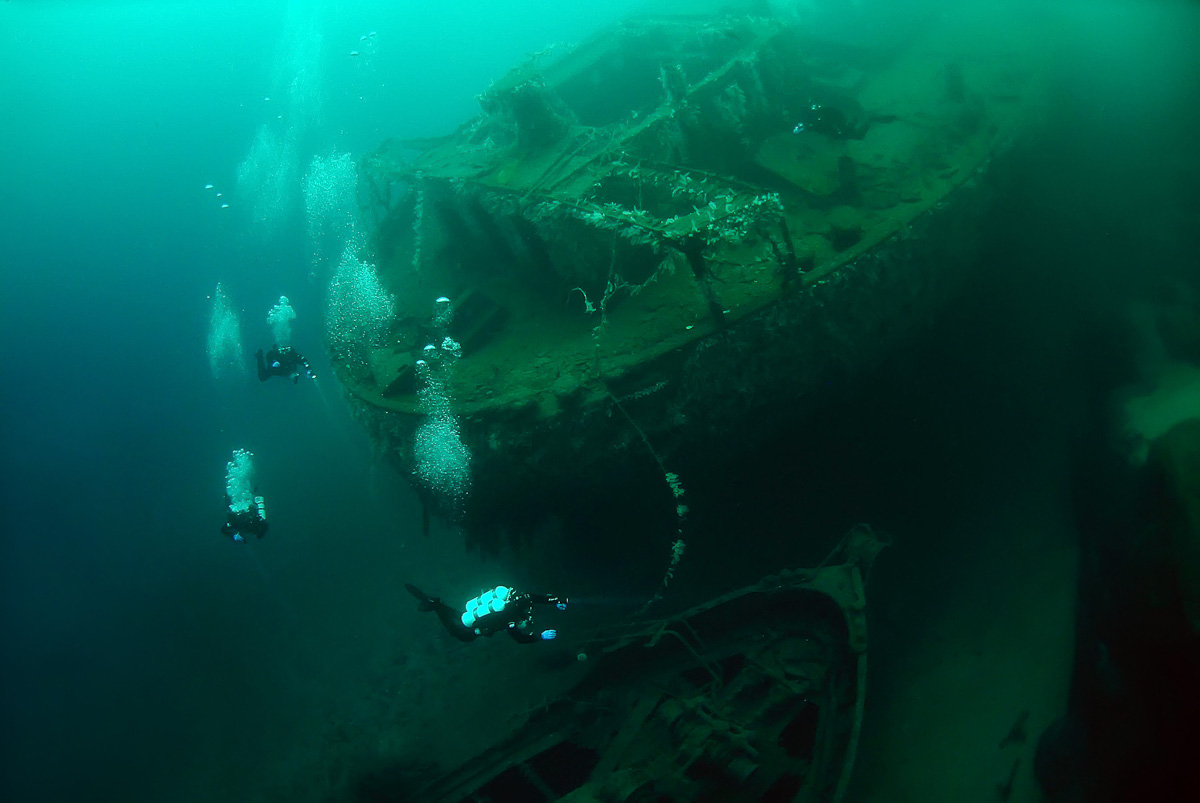 The wrecks of Fernedale and Parat
Now you have a rare opportunity to dive two WWII wrecks the Fernedale and Parat at the same dive. In December 1944, the German freighter Fernedale ran aground, as a result consequently, the rescuing steamer Parat was called in to help...
Unique Twin Wrecks
Most importantly, next morning allied aircraft discovered the ships and shot them into flames, therefore, Fernedale and Parat today share the same destiny. Parat with a length of 30 meters sank first, settling at a depth of 45-60 meters, most importantly the giant Ferndale followed her four hours later into the deep, besides that just missing to smash into the smaller vessel by just four feet! As a result, the wreck dive offers a perfect dive profile from 60 to 7 meters, suitable for both technical and sports divers.
Huge dimensions
With a length of 116 meters and a width of 16 meters, Ferndale weighed 4.302 GRT. After the war, as a result, of the sinking, the bow and fore ship was salvaged, most importantly leaving the midship and stern untouched. Ferndale was built in 1925 in Germany and was besides that owned by the Norwegian shipping company Glittre AS. The German invasion of Norway was in 1940 and as a result she was therefore taken over by the Kriegsmarine to be used as a supply ship.
---
Diving

This package offers some of the best wreck dives in Europe. We have divers from all around the world, who visit us to the experience intact wrecks. Our wrecks are protected in the fjords easily accessible with good diving conditions. Currents can not be compared with elsewhere in Europe as we have almost no difference in tides. With more than 25 wrecks to choose from, we can promise you good dives in almost any weather conditions.

Photo & Video

Are you a photographer or like to shoot, you have unique opportunities. We have an average viz water at around 15-18m, where the winter months December January and February offers up to 30m. detailed explanations before dives will give you the correct information needed to choose the right lens etc.

Availability

You can dive this package throughout the year with slight variations in viz, but favorable periods has very good visibility up to 30 meters + in the winter months Water temperature is highest in August with up to 22 Celsius and lowest in March with 6 celsius.

The package includes:

Accommodation in shared twin rooms at Gulen Dive Resort
Dive trips
Tanks, weights and air for all dives
Detailed wreck briefing
Social gathering with other wreck enthusiasts
After dive in 200BAR

Including also all that stands in the page

"Booking Conditions"

The package does NOT include:

Trimix and deco gas
Flights/transfer/travel costs or dive equipment
Food (self-catering)

The package can be extended with:

Transfer: To and from airport
Food: Dinner served everyday
Gas: Nitrox,Trimix and deco gas cost
Equipment: Deco bottles and renting equipment

Rates and booking

We offer several lengths of stay by default, but we are flexible if you want to make changes. No need to do anything no, if you need to ad or change som dives, or type of dive, we can do that when you are with us in Gulen.

Use our feedback form below if you have any questions.

---

Searching Availability...

Read more about other wrecks like Fernedale and Parat on these pages

Read more about some spectacular wrecks, the list is an extract of more than 20 wrecks that we have in our area.

Tags: dykking, fernedale, Fernedale and parat, gulen, norge, norwegen, parat, tauchen